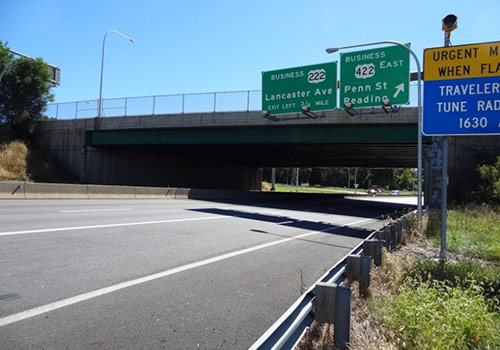 The US 422, Section 29M Reconstruction project involves the reconstruction and widening of approximately 5-miles of US 422 (West Shore Bypass) including the interchanges at N. Wyomissing Boulevard, Penn Street/Penn Avenue, Lancaster Avenue, and I-176.  The project extends through the City of Reading, West Reading Borough, Wyomissing Borough, Cumru Township, and Exeter Township in Berks County. Part of the National Highway System, the bypass was constructed in the late 1950s and early 1960s and provides an important link in the regional transportation network connecting to other key transportation arteries including US 222, I-176, PA Route 10, and PA Route 12. US 422 and these links provide a direct eastern connection from Reading to Pottstown, King of Prussia, and Philadelphia.
In 2014, PennDOT completed the Route 422 West Shore Bypass Reconstruction Study which identified transportation projects that will improve the safety, operations, regional mobility, and local access of the existing corridor. The current project builds on the study's recommendations for the corridor between PA Route 12 and I-176, and advances them to further study, design and environmental clearance to construction.
The project is currently in the preliminary engineering stage, which develops the key design components such as alignments, profiles, lane/shoulder/median widths, interchange and traffic signal operations, and preliminary bridge sizing.  Critical project items such as roadway drainage, stormwater management, bridge hydraulics, traffic control, and constructability are all developed to a preliminary stage to assist in identifying potential impacts to adjacent properties, utilities, railroads, cultural resources, and environmental features.  Feedback from the public, public officials, and other stakeholders is also solicited during this phase to ensure the project meets the purpose and needs as well as the needs of the affected communities.  Adjustments to the design can be made during this phase in response to comments and suggestions received or to avoid, minimize, or address impacts and progress the project towards environmental clearance.
Current project statistics:
5.3 miles long
Widening to 6 lanes between PA Route 12 and I-176
Reconstructing 4 interchanges

N. Wyomissing Blvd, Penn St/Penn Ave, Lancaster Ave, and I-176

Approximately 450,000 square yards (93 acres) of paving
20 Bridges, including Bingaman Street Bridge
19 Retaining Walls – Approximately 15,800 linear feet (3.0 miles)
Potentially 5 Noise Walls – Approximately 16,200 linear feet (3.1 miles)
9 Watercourses, including Schuylkill River, Tulpehocken Creek, and Wyomissing Creek
5 Wetland areas (1.1 acres)
16 – 4(f) resources (public parks, recreation areas, historic sites)
11 Utility owners and 153 potential utility impacts
Construction is currently planned in two phases, shown in the figures below, with Phase 1 of construction estimated to begin in late 2027.
Phase 1 Map



Click here to download the full resolution PDF >>
Phase 2 Map



Click here to download the full resolution PDF >>
Public and Stakeholder Outreach to date:
Schuylkill River Greenways Association meeting September 21, 2016
Berks County Planning Commission meeting October 4, 2016
422WestShoreBypass.com website launched November 9, 2016
Visualization video added to website May 16, 2017
Bicycle/Pedestrian Focus Group workshop May 30, 2017
Bicycle/Pedestrian Focus Group workshop August 1, 2017
Public Meeting at Alvernia University August 15, 2017
West Reading/Wyomissing/Spring Township/Sinking Spring Joint Municipal Comprehensive Plan meeting November 15, 2017
Greater Reading Chamber Alliance (GRCA) meeting March 28, 2018
Greater Reading Chamber Alliance (GRCA) meeting July 31, 2018
Berks County Planning Commission/Greater Reading Chamber Alliance (GRCA) meeting September 17, 2018
Greater Reading Chamber Alliance (GRCA) meeting March 12, 2019
Agency Coordination meeting April 24, 2019
Reading Area Transportation Study (RATS) Technical Committee meeting May 2,2019
Greater Reading Chamber Alliance (GRCA) meeting May 2, 2019
Reading Area Transportation Study (RATS) Coordinating Committee meeting May 16,2019
Cumru Township Emergency Services meeting June 5, 2019
Greater Reading Chamber Alliance (GRCA) meeting June 12, 2019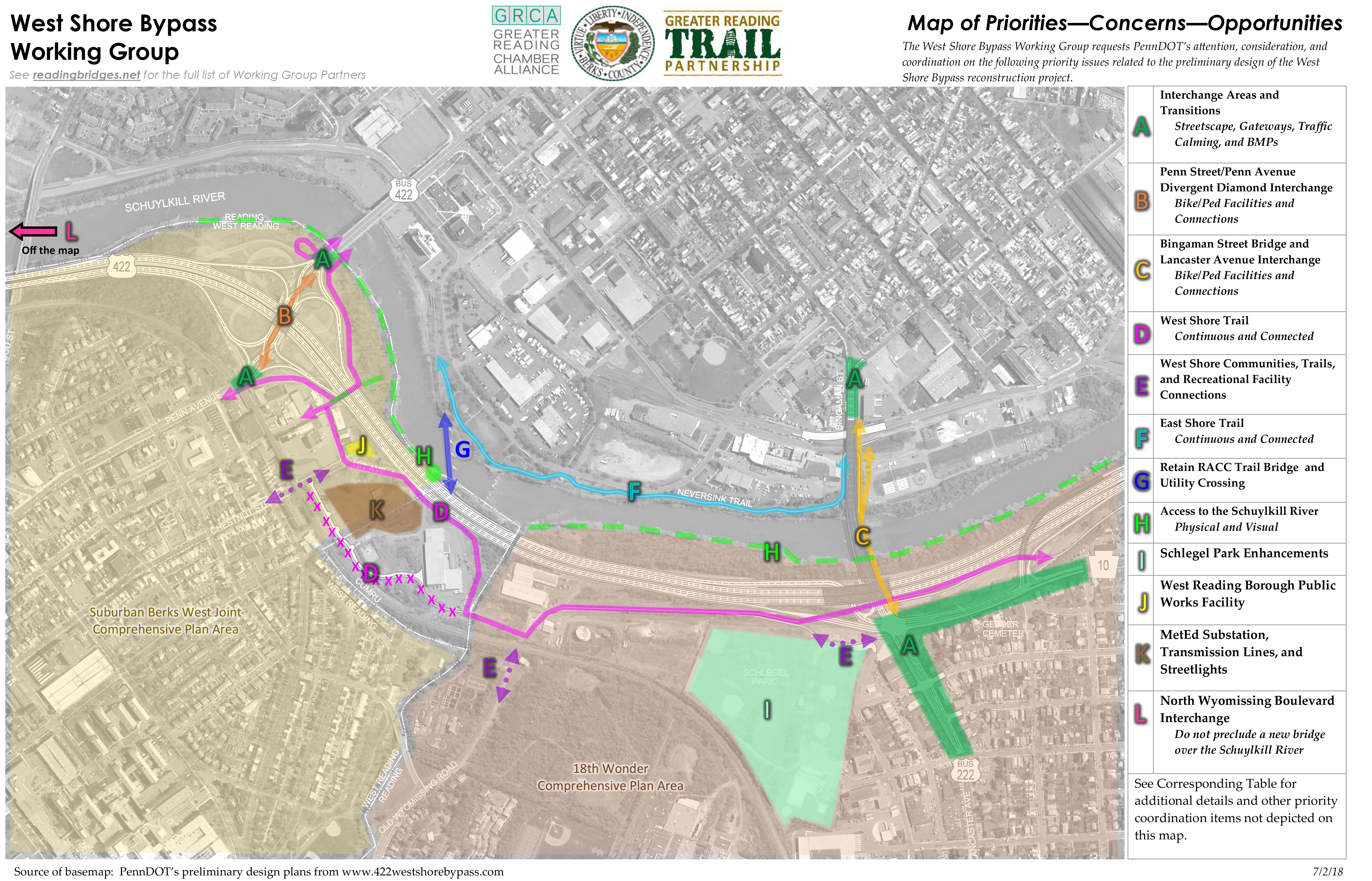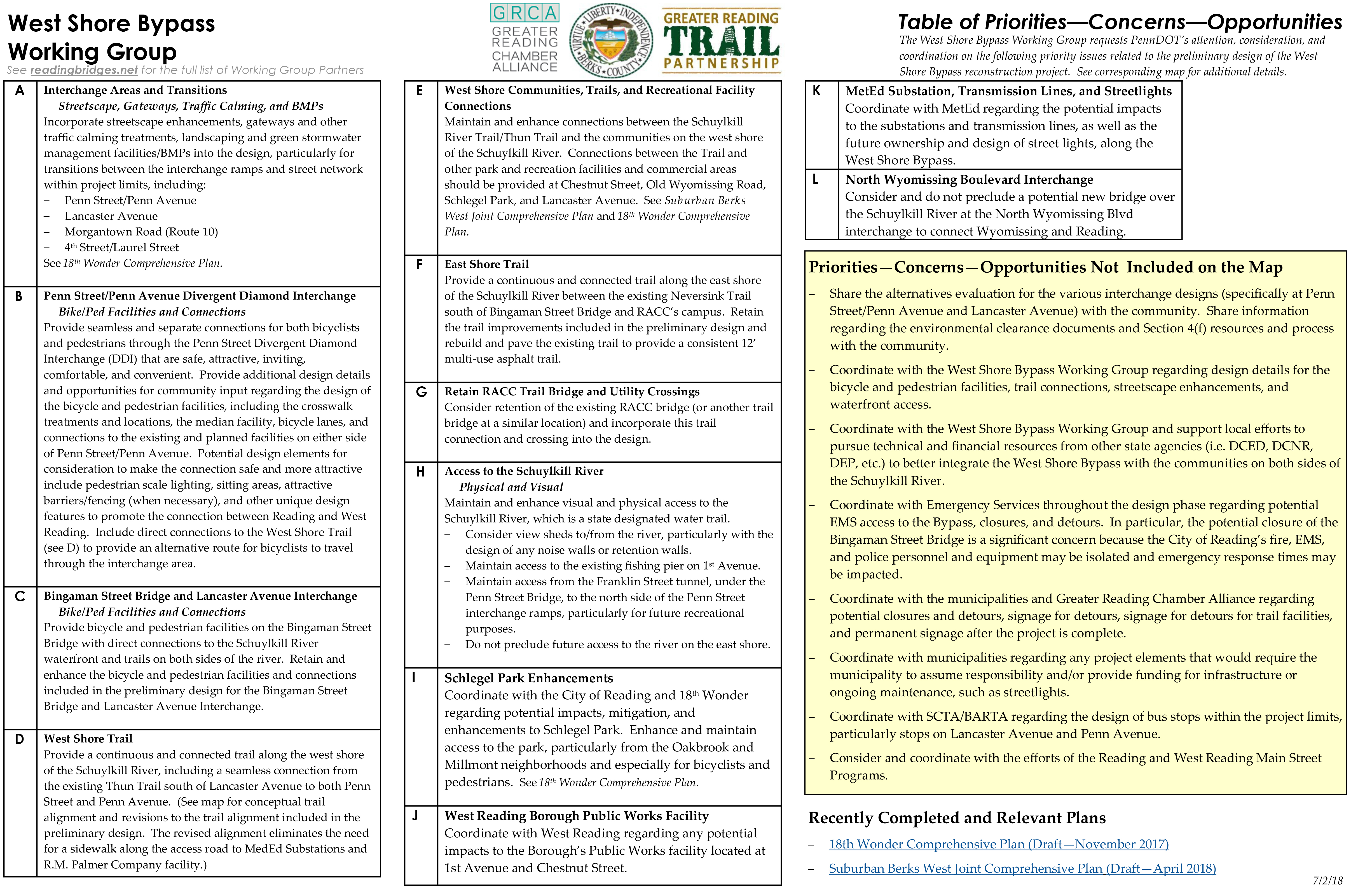 Click here to download the full resolution PDF >>